Scab pressure would appear to be lighter than in some past years, but could be found to some degree almost everywhere. Weed infestations were higher than most years, reflecting wheat prices and chemical costs.
Later planted wheat (three or four weeks to harvest) had leaf diseases in many areas. This has the potential to restrict grain fill and possibly lower test weight. It is very difficult to predict the final outcome of this later planted wheat.
Our results should not be viewed as being official. The North Dakota Agricultural Statistics Service will be giving monthly updates of the official data.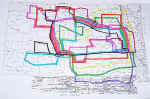 **Click image at left for a larger view**