The Wheat Quality Council (WQC) held its annual meeting, forum and technical review sessions on February 24-26, 2004, at the KCI Embassy Suites Hotel in Kansas City with 160 industry participants attending.
The National Wheat Workers Workshop provided the forum for this years meeting. Their four-hour session on varying aspects of wheat quality drew a huge crowd. Thank you to the Wheat Workers for sharing their knowledge with the rest of the wheat industry.
Forty-eight new breeder submitted lines and check samples were entered in the evaluations this year. All were grown and harvested during the 2003 crop year. These lines were broken down into eighteen hard winters, seventeen soft winters, ten hard springs and three durum wheats.
As the result of the WQC evaluations, some lines were dropped, some are undergoing further testing and some have been released to growers. Of the new lines reviewed, two were dropped from further development due to inadequate quality. Eight are being evaluated further due to concerns about the quality of the grain submitted for analysis. Twenty-two lines are destined for release or have been released based on their good to acceptable quality.
In the hard winters, the following decisions have been made based on breeder comments at the meeting. Colorado State University has two lines slated for release this year. Hays, Kansas (KSU) has three new hard white wheats for possible 2005 release as replacements for "Trego". Manhattan, Kansas (KSU) has released "Overley", and will likely not release their other line. Oklahoma State University has released "OK102" as a replacement for "2174" with two potential releases for fall '04. South Dakota State University has one hard red winter for potential release and one hard white potential release for noodle production. All hard winter lines were also evaluated for tortilla production at Texas A&M University with varying results.
In the Eastern Soft winter wheats, Purdue has released one line "INW0304", and is increasing two lines with scab tolerance. Sunshine Extract Company has released "Bravo", "Daisy", "Honey" and "Husky". Virginia Tech has released "Renwood 3706" and "Rachel". Pioneer Hi-Bred has released "Pioneer 25R35", "25R47" and "26R15" for various regions in the east. The University of Arkansas entered two lines with release data unknown. Thompsons Limited has a soft red, scab tolerant line for release in fall '05.
In the hard springs, the University of Minnesota has started seed increase on one line for '06 release. North Dakota State University released "Steele" from last year's test, and has another line approved for pre-release. AgriPro Wheat has released "Freyr", a high protein line. World Wide Wheat has released an unnamed line and dropped one line. South Dakota State University has released a large-seeded variety called Granger". Westbred has released "Trooper", which is destined for high input locations. Trigen Seeds will be releasing a well-accepted variety named "Banton", with high management potential.
A total of thirty-four cooperators from across the country helped to evaluate the milling and baking/processing qualities of the forty-eight lines and checks entered from the 2003 growing season. The cooperators provide a tremendous service to the wheat industry of this country and deserve our thanks for their contributions.
The 2005 Annual Meeting dates are February 22, 23, and 24, at Kansas City.

Dave Katzke, General Mills, 2004 WQC Chairman
---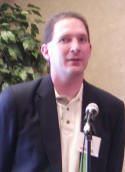 Dave Katzke, Manager of Grain and Flour Quality Lab at General Mills, was elected Chairman of the Wheat Quality Council board of trustees at the 2004 Annual Meeting in Kansas City. Dave had been involved with activities of the Wheat Quality Council for many years and is completing his second term on the board. He has been a leader of the hard winter and hard spring wheat tours for some time as the official statistician. Dave brings a wealth of knowledge and experience to his position as Chairman of the Board of Trustees.
Other officers for 2004 include Mark Hodges, OK Wheat Commission, as Vice –Chair and Dave Green, ADM Milling, Past Chair.
Re-elected as a Board member was Dave Green. Newly elected were Jim Powers, Perten Instruments; Bill Gambel, American Ingredients; Phil Farmer, Syngenta and Laird Larson, SD Wheat Commission.
Serving on the Executive Committee for 2004 are Dave Katzke, Mark Hodges, Dave Green, Rollin Sears (AgriPro Wheat), Charles Gaines (ARS Soft Wheat Lab) and Mark Norton (Bay State Milling).
Back to Top