Wheat Briefs

Wheat Quality Council

Pierre, SD

Spring, 2000
WHEAT QUALITY COUNCIL ANNUAL MEETING HELD IN KANSAS CITY
The Wheat Quality Council Annual Meeting and Technical Review drew a large crowd to Kansas City on February 14-16, 2000. The forum on BioTech/GMO's was well received by Council members and guests. The speakers did an outstanding job.
WHEAT GROWERS EYE GMO CHALLENGES
The following article, reprinted in its entirety, was written by Carey Gillam of Reuters Kansas City bureau.
KANSAS CITY, Mo., Feb 16 (Reuters) – US wheat growers face an expensive uphill journey as they follow in the controversial footsteps of soybean and corn farmers toward producing and marketing genetically enhanced crops, grain industry players said on Wednesday.
Wheat is a genetically complex plant and thus has lagged biotech advancements seen in corn, soybeans, cotton and rice, according to wheat breeders. But within three to five years, biotech wheat will be introduced to the market as agricultural companies race to bring an herbicide-tolerant offering to the market, wheat experts said at a forum on genetically modified organisms at the US Wheat Quality Council annual meeting in Kansas City.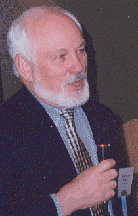 "RoundUp Ready wheat is probably going to be the first one to hit the market," said Monsanto Co agricultural consultant John Richardson, referring to wheat designed to withstand Monsanto's RoundUp herbicide. "In 2003 it will come out in Canada and in the US spring wheat. Winter wheat will be further behind."

With research advancing in genetically modified wheat, the industry must start to address issues of legal liability, identity preservation expenses, international approval and consumer acceptance at home and abroad, agricultural experts said.

"There are some exciting things coming in wheat, but

we must understand the impact this is going to have," Richardson said. "It is going to take a lot of work. It is important that we get started now."

Raging controversies in Europe and elsewhere over the safety and environmental impact of biotech crops have hurt the US soybean industry, and to a lesser extent the corn industry, the experts said.

On Wednesday, the German government suspended approval of sales of genetically modified corn, citing possible health risks, until a federal agency decides the matter on Friday.

"We have lost markets," said Christopher Novak, an American Soybean Association spokesman. Novak said that because the wheat industry depends on exports, it should consider itself an ally of soybean growers on this issue. He blamed a "politicized process," particularly in Europe, for hampering exports of genetically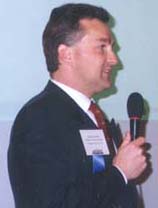 enhanced crops.

John Bloomer, wheat biotech manager for Anglo-Swedish firm AstraZeneca, acknowledged that progress was slow in gaining European acceptance of GMO products, but said he was optimistic that was changing.

AstraZeneca recently had success introducing a biotech tomato puree in Europe and is currently focusing on development of fungal control wheat varieties for European farmers, he said. Last May, AstraZeneca struck an alliance with seed company AgriPro to develop genetically enhanced wheat in North America, he said.

Bloomer said numerous recent food scares, a distrust of the government regulatory system and a general unease with large corporations were factors in the European Union's reluctance to embrace GMO crops. He said the US wheat industry could overcome many of these hurdles by starting early to educate consumers about the benefits of biotech wheat.

"Gaining trust takes time, so you've got to start early and prepare the way," Bloomer said. "We have the opportunity and the time to do it right in wheat, but it will need cooperation in the whole wheat food chain."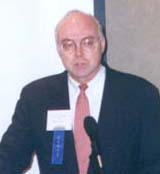 But overcoming the multiple issues associated with biotech crops will require a lot of collaboration and consultation among all players in the wheat industry, said Kansas State University Dean of Agriculture Marc Johnson.

"These aren't things that we need to fear, they're issues that we need to address," Johnson said.
---
TOM ROBERTS HONORED
This year was the 50th report on hard winter wheat quality. This report was dedicated to Mr. Thomas C. Roberts of Manhattan, Kansas. Mr. Roberts presided over the Wheat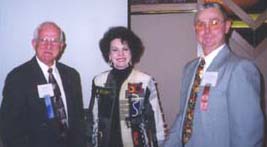 Quality Council and its predecessor organizations from 1966-1992. He has devoted most of his working career to wheat quality improvement in the hard winter wheat region. Tom and his wife Dixie were WQC guests at the 2000 meeting and were recognized at the final luncheon.

Tom and Dixie Roberts with Ben Handcock, Wheat Quality Council
---
EASTERN SOFT WHEATS
There were eight lines of wheat entered in the test this year, along with two check cultivars. A huge battery of tests were run on the samples, including the following:
Miag Milling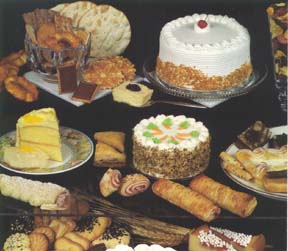 Rapid Visco Analyzer
Quadrumat Jr. Milling
Test Weight
Allis-Chalmers Milling
1000 Kernel Weight
Acidulated Flour Viscosity
MacMichael Viscosity
Damaged Starch
Ash
Solvent Retention Capacity
AWRC
Alpha-Amylase Activity
Wheat Density
Sugar-Snap Cookies
Alveograph
Wire-Cut Cookies
Biscuits
Falling Number
Chopin Milling
Mixograph
Moisture
Particle Size
Protein Content
Single Kernel Characterization

Quality evaluators were: USDA/ARS Soft Wheat Lab, Star of the West Milling Co., Nabisco Inc., The Mennel Milling Co., Midstate Mills and Siemer Milling.

Comments in a summary of the quality testing were:
XW674 (26R24)
Ben Edge, Pioneer HiBred
Minimum sugar-snap cookie spread
Smaller wire-cut formula cookie diameter
Thicker and harder wire-cut formula cookie diameter
Lower biscuit specific volume
Lower flour yield
Minimum mill score
APD95-7763
Barton Fogelman, AgriPro Wheat
Acceptable cookie spreads
Lower biscuit specific volume
Lower flour yield and mill score
Higher flour ash
AR584A-3-1
Robert Bacon, U of Arkansas
Acceptable cookie spreads
Protein content a little high for pastry flour
Acceptable milling characteristics
AR494B-2-2
Robert Bacon, U of Arkansas
Smaller wire-cut formula cookie diameter
Acceptable milling characteristics.
BL930390
June Hancock, Novartis
Acceptable cookie spreads
Higher biscuit specific volume
Higher flour ash
Otherwise acceptable milling characteristics
VA96-54-326
Carl Griffey, Virginia Tech
Protein content a little high
Smaller kernels
Stronger protein quality (export/cracker)
Lower biscuit specific volume
Very good flour yield and mill score
88204RB1-2-4-6-70
Herb Ohm, Purdue
Lower kernel density
Lower protein content
Smaller kernels
Very soft kernel texture
Larger sugar-snap cookie spread
Larger and softer wire cut formula cookie diameter
Acceptable milling characteristics
GA89482E7
Jerry Johnson, U of Georgia
Acceptable cookie spreads
Relatively large kernels
Excellent flour yield and mill score
The soft wheat group is still working on ways to identify varieties for specific end uses. One of the big hurdles in the soft wheat region is wheat lines not being tested by either the USDA Quality Labs or the Wheat Quality Council.
---
HARD WINTER WHEATS
Eleven advanced lines of hard winter wheat from five states were evaluated this year by the cooperators in the Council. Each was compared to a top quality variety currently grown in the state.
Wheat Data Collected
FGIS Classification
Test Wt (lb/bu)
Hectoliter Wt (kg/hl)
1000 Kernel Wt
NIR Hardness
Kernel Size (sieved)
Single Kernel Hardness
Single Kernel Wt
Single Kernel Diameter
Moisture %
Protein %
Ash %
Milling & Flour Data Collected
Straight Grade Flour Yield
Moisture %
Protein %
Ash %
Wet Gluten %
Dry Gluten %
Agtron Flour Color
Simon Flour Color
Falling Number
Avg. Micron Size
Farinographs
Mixographs
Sample analysis and report preparation cooperators were USDA-ARS-GMPRC-HWWQL, American Institute of Baking, Federal Grain Inspection Service and KSU Department of Grain Science & Industry.
Baking cooperators included: ADM Milling Co, AIB, Bay State Milling, Cargill Inc, Cereal Food Processors, ConAgra Inc, KSU, The Long Co, Mennel Milling, Roman Meal Milling, University of NE, Hard Winter Wheat Quality Lab, Hard Spring Wheat Quality Lab and Western Wheat Quality Lab.
The baking cooperators scored the flours on sponge characteristics, bake absorption, bake mix time, mixing tolerance, dough characteristics "out of mixer," dough at "make up," crumb grain, crumb texture, crumb color, loaf volume and overall baking quality.
The two Colorado lines were rated lower than the check. (Prowers)
The two Kansas lines were rated about equal to the check. (Jagger)
The two Nebraska lines and the check (Culver) all had some scab damage so the tests really can't be taken too seriously.
The two South Dakota lines were rated lower than the check. (Tandem)
Two Oklahoma lines were rated slightly lower than the check (2174) and one line was rated slightly better than the check.
Each year the mill chemists give an award to the breeder of the top line evaluated. The award this year went to Oklahoma State University breeder, Brett Carver, for his line OK96717.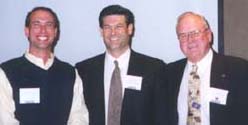 Dave Green (center) ADM Milling Co, presented the top breeder award for 1999 to Brett Carver (left).
Proudly looking on is Paul Jackson (right) representing the Oklahoma Wheat Commission. Carver's line, OK96717, was rated highest by the mill chemists at the Wheat Quality Council Technical Review Session.
The mill chemists take money out of their own pocket and present this award on an annual basis.
---
HARD SPRING & DURUM WHEATS
Nine experimental hard spring wheat lines were planted at four locations in North Dakota, South Dakota and Minnesota. All were compared with the variety Grandin, a high quality variety grown in the region.
Mother Nature did not treat the crop well this year in our locations. In fact, the durums were completely lost and only one site, Crookston, MN had any spring wheat to test. Minot, ND had hail; Casselton, ND and Brookings, SD samples were discarded due to severe sprout damage. Three of the lines grown at Crookston also had sprout damage and were discarded. Therefore, only six lines from one location, Crookston, were even evaluated.
The USDA-ARS-Hard Red Spring and Durum Wheat Quality Laboratory in Fargo, ND milled the samples and used the following methods of analysis: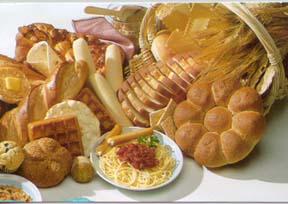 Test Weight
NIR Kernel Hardness
Wheat and Flour Protein
Wheat and Flour Ash
Falling Number
Mixograph
Farinograph
Kernel Size
Percent Flour Extraction
The flours were baked and scored by the following cooperators: ADM Milling Co, Bay State Milling, Cargill Inc, Cereal Food Processors, ConAgra Inc, Montana State University, North Dakota State University, The Long Co, USDA-ARS-GMPRC-HWWQL in Manhattan, KS and USDA-ARS-HRS and Durum Lab in Fargo, ND.
Scores were based on bake absorption, bake mix time, mixing tolerance, loaf volume, crumb color, crumb grain, crumb texture and an overall baking rating.
The Minnesota line was rated slightly lower than the check.
One North Dakota line rated slightly lower than the check.
One North Dakota line rated about equal to the check and will be released as "Alsen." It has fusarium head blight resistance. Certified growers will have seed this spring.
One line submitted by Trigen Seed was rated lower than the check.
Two South Dakota lines rated lower than the check, and both have been dropped from their program.
The spring wheats will be grown in the same locations in 2000, and the durums will be grown in Minot, ND and Sidney, MT.
WQC Board of Trustees
The following Board members completed their terms this year:
Don Mennel – Mennel Milling Co
Mark Dobbins – Cereal Food Processors
Greg Marshall – Pioneer Hi-Bred
Patrick Finney – Soft Wheat Lab
Rick Dusek – Cenex Harvest States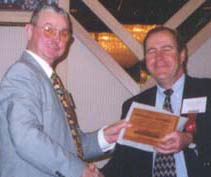 Ben Handcock, (left) WQC, presents Don Mennel , Mennel Milling Company, with a plaque thanking Don for having served six years on the WQC Board of Trustees.
New members elected to the Board include:
Rick Siemer – Siemer Milling Co
Ron Olson – General Mills
Allen Baiamonte – BIMBO Bakeries USA
Mike Hardy – Spring Wheat Bakers
Wendy Erickson – Multifoods
Charles Brazeal – Safeway Inc
Scott McWilliams – Bartlett & Co
Rollin Sears – AgriPro Wheat
Charles Gaines – Soft Wheat Lab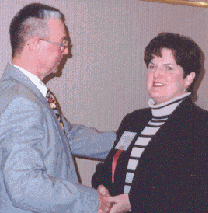 Patricia Berglund of the Northern Crops Institute, Fargo, ND was introduced as Chairperson for the year 2000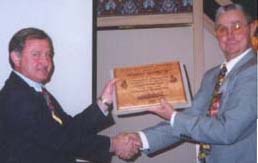 Robert Bennett (left) Farmland Grain, was presented the Full Kernel Award plaque from Ben Handcock, WQC for having served the Council as Chairman for the past year.
The dates for the next annual meeting of the Wheat Quality Council are February 20-22, 2001 in Kansas City.
WHEAT QUALITY COUNCIL WHEAT TOURS SE Soft Wheat Tour (GA, SC, NC, VA)
Start in Albany, GA and end in Richmond, VA.
Monday, April 17—Thursday, April 20, 2000.

Hard Winter Wheat Tour (KS, NE, CO, OK)
Start in Salina, KS and end in Kansas City.
Monday, May 1—Thursday, May 4, 2000.

Eastern Soft Wheat Tour (AR, MO, IL, TN, KY, IN, OH, MI)
Start in Little Rock, AR and end in Detroit, MI.
Monday, May 22—Friday, May 26, 2000.

Hard Spring & Durum Wheat Tour (ND, SD, MN)
Start and end in Fargo, ND.
Monday, July 31—Thursday, August 3, 2000.

PHONE: 605-224-5187 FAX: 605-224-0517
EMAIL: BHWQC@AOL.COM