About Us
---
Wheat Quality Council's Goals
The goal of the Wheat Quality Council is to improve the value of all U.S. wheat classes for producers, millers, and processors of wheat.
A. To advocate the development of cultivars which enhance end use quality of wheats for all U.S. wheat classes. Provide forums for breeders, producers, and industry members to discuss desired characteristics and evaluation of wheat. Provide recognition of those making positive contributions to these wheat developments.

B. To communicate industry needs and the importance of meeting end-user needs to breeders, producers, traders of wheat, and all U.S. wheat organizations (all segments of the wheat industry). This will be accomplished by providing forums at all official Wheat Quality Council functions, keeping the website current, and by providing newsletters/information to all segments.

C. To encourage broad participation by all members of the wheat industry by having a diverse membership of at least 50% of potential members in each membership category.

D. To offer advice to and support for State Wheat Quality Labs and USDA-ARS Wheat Quality Labs.

E. The Council will operate within a balanced budget.
---
Our Focus
The Wheat Quality Council is an old organization with a new, much-broader focus. Founded in 1938 , it has a long and distinguished history of evaluating wheat for milling and end-use quality.

In 1993-1994, the Spring Wheat and Soft Wheat groups were merged under the Council umbrella - a new Wheat Quality Council was born.

The Council is now testing the milling and end-use qualities of Hard Winter, Hard Spring , Durum and Soft Wheats - nationwide.

The merger has broadened influence, reduced costs, improved communication and encouraged broader industry support.

The Wheat Quality Council can impact the future quality of wheat flour and flour based products in this country.

Your membership contribution would be a wise investment if the quality of wheat has any influence on your business.
---
Uniform Grow Out
Click picture to enlarge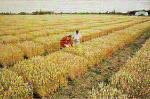 An extremely important part of the Wheat Quality Council effort is represented by our uniform grow out program.

The Wheat Quality Council sponsors programs where different varieties of wheat are grown side by side in locations throughout the various wheat production areas. The harvested wheats are evaluated for milling qualities and the resulting flours are tested for end-use quality by cooperating bakers. The results of these tests are then published and sent to all Council Members.

These tests allow breeders to make adjustments in their potential varieties. They also allow millers and bakers to become cognizant of the milling and baking characteristics of the different future varieties. These tests also provide information about how each variety's processing performance can be influenced by environmental conditions.